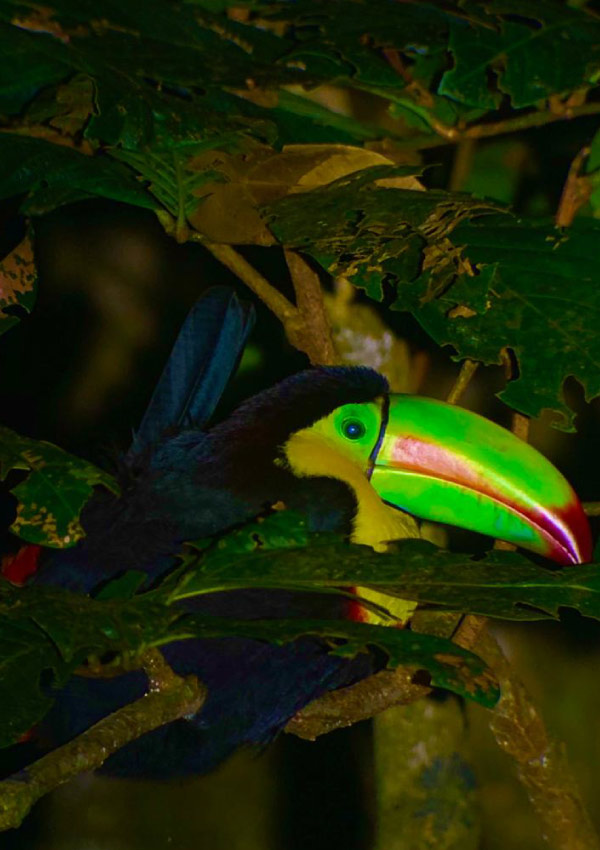 Wildlife refuge Monteverde
The Wildlife refuge Monteverde is a conservation area of 55 acres of forest and gardens located in the most important mountain destination in Costa Rica.
Its privileged location makes it a special place to get to know the wonderful flora and fauna of this Costa Rican region, where a great variety of species of birds, mammals, insects, amphibians and reptiles stand out.
That is why we have a varied offer of activities, from day hikes to enjoy the sunrise of the forest to see the monkeys, many birds, the swift aguti, or just breathe with many sounds.
Or be part of our night walk where you will have the chance to come face to face with a variety of species such as frogs, snakes, sloths, owls and many more.
As one of the most visited places in Costa Rica we can find different types of adventures and even activities. You can find from night hikes to birdwatching tours.
Environmental Programs
– Member of Mi Ocotea conservation program
– Bell Bird biological corridor
– Reforestation and conservation area
– Monteverde Soccer academy sponsor
– Monteverde Athletics Sponsor
Exclusive
– Professional staff and equipment
– Small groups
– Responsible activity
Safe
– Insurance policy
– Registered Company
– Hosted by the owners
– Certified tourism company by ICT
– Member of the Monteverde chamber of tourism
We did a night hike here, booked through Nasua Tours. Our knowledgeable guide showed us some beautiful wildlife, including a perched green pit viper awaiting prey, sleeping birds, and wolf spiders. It was a really wonderful experience, being in the forest at night.
Margaret Elizabeth Johnston
2022-07-28
I felt the guide, Christian, was very well informed, showed kindness and care while making sure I got to see as much stuff as he could find. We covered flora and fauna and he was an expert with the telescope so I could use my phone for some close-ups too. I took an 8am tour but feel a 6am would be better for birding. The property is easy to get to also.
Nicollette Parra
2022-06-15
10/10 recommend this experience! We saw so many cool creatures and our guide Chris M. was incredibly knowledgeable about them – and he spoke Spanish, English, and German! Our group was just 4 people so we all got a chance to take photos and use his high tech telescope. This night tour is a must!
Valerie Stancyk
2022-03-04
Our night tour was so amazing! We were able to see an armadillo, a frog, a sloth and her baby, a viper, some sleeping birds and many insects. From what I've heard, a night tour is the best way to see wildlife in Monteverde. Our guide was very knowledgeable and had a passion for what he does.
Richard Sullivan
2022-02-22
The night tour with Roy was great! Interactive fun! I saw a red eye frog, 2 vipers, a scorpion, Mexican harry porcupine, leaf bug and A SLOTH! And so much more. Very informative. I wish I had done this before my day trip through the Forrest Best tour of my trip. Thanks Roy!
Diego was our amazing guide and we had so much fun! He was funny and very knowledgeable. We got to see a mama sloth with her baby, a scorpion, a sleeping toucan, armadillo, stick bug, fireflies, many birds, and lots of insects all while learning about the wildlife from Diego! Loved looking up to see tons of fireflies roaming around in the trees. Diego also helped us take some really cool pictures!
Meredith Hutcheson
2022-01-27
My friend and I booked a tour last minute as the team graciously fit us in despite not having seen our registration until we turned up! Our guide, Jason, was knowledgeable and so much fun to explore with. He answered all our questions and found for us an impressive group of wildlife: a walking stick, a red-eye stream frog, a unicorn katydid, a leaf bug, a blue-eyed anole, a toucan, a couple of hummingbirds, a side stripe viper, a moss camouflage praying mantis, a green toucan, and most excitingly a very active mama sloth. We also learned about the trees, plants, and forest ecosystem. Truly a great experience.
We did the night tour with Miner, and our experience was phenomenal. He knew so much about the animals, wildlife, and intent behind conservation. We saw so many red-eyed tree frogs (at least 8), and many other critters. The walk was not difficult at all but still lasted an hour and a half. The time flew by. We had the dinner afterwards and it was great!